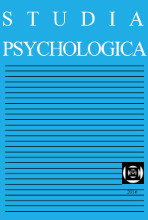 ---
Aim, scope, preferences
The international journal Studia Psychologica is published by the Institute of Experimental Psychology, Centre of Social and Psychological Sciences, Slovak Academy of Sciences, Bratislava, Slovak Republic, since 1956. Studia Psychologica is open-access journal since 2016.
This is an open access journal which means that all content is freely available without charge to the users or their institution. Users are allowed to read, download, copy, distribute, print, search, or link to the full texts of the articles, or use them for any other lawful purpose, without asking prior permission from the publisher or the author. This is in accordance with the BOAI definition of open access.
The journal publishes original articles in the area of psychology with focus on cognitive and emotional processes in personality, social and developmental context.
The journal aims to bring together work on cognition and emotion undertaken by researchers in the area of cognitive, social, personality and developmental psychology, psychophysiology, neuropsychology/neuroscience, etc.
Types of articles: We publish empirical articles up to approximatelly 6000 words, including new empirical contributions, replications, and meta-analyses.
Replications: We publish replications, so long as they have a compelling rationale, e.g., the original results were surprising.
Registered reports: We will review the Introduction and Method section of proposed studies (plus something like a power analysis, if relevant). If these are accepted, then we promise to publish the results. The idea is to encourage risky but important studies (including replications) by removing the fear that a negative or ambiguous result will not be publishable. A registered report is not the same as pre-registration. When submitting a registered report, please also include a separate explanation of why you are doing the study and why you want acceptance in advance. Following initial (pre-study) acceptance, authors are typically required by the action editor to register the approved protocol (e.g., on the Open Science Framework or other recognised repository), either publicly or under private embargo until submission of the full manuscript with results. The full manuscript will then also contain the URL of the approved protocol.
Topics covered by the journal include:
Sensory processes and perception
Learning, memory and attention
Thinking, problem-solving, intelligence and creativity
Judgment and decision making
Attitudes and beliefs
Emotions and emotion regulation
Motivation, goals and achievement
Personality variables and personality development
Well-being and optimal human functioning
Coping, adaptation and stress management
Identity and self
Cultural aspects of cognition and emotion
Social cognition, prejudices and stereotypes
Language, communication and information processing
Methodological and statistical advances in the areas covered by journals
We welcome articles that focus on the above mentioned topics as they pertain to individuals, dyads, groups, and other social collectives. Empirical studies are preferred. Occasionally editors may invite well-known authors to contribute authoritative review articles and theoretical treatments on selected themes in the journal's areas of interest.
Guide for Authors
Submitted manuscripts must not have been previously published and must not be under consideration for publication elsewhere. All submissions are peer-reviewed.
The editors accept manuscripts that should be no longer than 20 double-spaced pages (ca. 6000 words).
The article should not exceed the prescribed length, otherwise it will be returned immediately to the author and will not be submitted into the editorial process.
Publication ethics and publication malpractice statement
Studia Psychologica follows the standard for Ethics and Publication Malpractice set by the Committee on Publication Ethics (COPE). Editors, authors and reviewers are expected to conform to the Core practices, which reflect the current best principles of transparency and integrity of scholar records.
The editors accept only contributions written in English.
Prepare manuscripts according to the Publication Manual of the American Psychological Association (6th edition). Review APA's Checklist for Manuscript Submission before submitting your article. This journal uses double-blind review, which means that both the reviewer and author identities are concealed from the reviewers, and vice versa, throughout the review process.
Double-space all copy. Other formatting instructions, as well as instructions on preparing tables, figures, references, metrics, and abstracts, appear in the Manual. Submission items include cover letter, title page, blind manuscript (including a blind title page, abstract, manuscript text, references, and figure legends), tables, and figures. Revised manuscripts should also be accompanied by responses to reviewers' comments.
Title page.  In addition to an expressive title, the author (authors) should give their full names and affiliation with full address and e-mail. Title should be concise and informative. Titles are often used in information-retrieval systems. Avoid abbreviations and formulae where possible.
Author names and affiliations: Where the family name may be ambiguous (e.g., a double name), please indicate this clearly. Present the authors' affiliation addresses (where the actual work was done) below the names. Indicate all affiliations with a lower-case superscript letter immediately after the author's name and in front of the appropriate address. Provide the full postal address of each affiliation, including the country name and, if available, the e-mail address of each author. Clearly indicate who will handle correspondence at all stages of refereeing and publication, also post-publication. Contact details must be kept up to date by the corresponding author.
Manuscript. The manuscript file must include a blinded title page, containing only the manuscript title, abstract and keywords. Abstract and keywords: All manuscripts must include a concise and factual abstract and 3-5 keywords or brief phrases. The abstract must be a single paragraph that summarizes the main findings of the paper in fewer than 150 words.
Abbreviations: Define abbreviations that are not standard in this field in a footnote. Such abbreviations that are unavoidable in the abstract must be defined at their first mention there, as well as in the footnote. Ensure consistency of abbreviations throughout the article.
Acknowledgements: For reasons of assisting with double-blind review, collate acknowledgements in a separate section on the title page beneath the author information. List here those individuals who provided help during the research (e.g., providing language help, writing assistance or proof reading the article, etc.).
Tables, figures, diagrams, photos, drawings - all in black & white - as well as possible footnotes should be on separate pages; text should mention their placement, numbering and titling. They should follow APA format (6th Edition).
Citations in text and the reference list should conform to APA style (6th Edition). Each listed reference should be cited in the text, and each text citation should be listed in the References section. References in the list should be in alphabetical order.
Reference style:
Text: Citations in the text should follow the referencing style used by the American Psychological Association. You are referred to the Publication Manual of the American Psychological Association, Sixth Edition. Details concerning this referencing style can also be found at http://humanities.byu.edu/linguistics/Henrichsen/APA/APA01.html.
List: references should be arranged first alphabetically and then further sorted chronologically if necessary. More than one reference from the same author(s) in the same year must be identified by the letters "a", "b", "c", etc., placed after the year of publication. Journal titles should be written out in full rather than abbreviated. Please note style of capitalization and punctuation for journal articles, books, and edited books in the examples below.
Examples:
Reference to a book. Kahneman, D. (1973). Attention and effort. Englewood Cliffs, NJ: Prentice-Hall.
Reference to a journal. Bandura, A. (2012). On the functional properties of perceived self-efficacy revisited. Journal of Management, 38(1), 9-44.
Reference to a publication within a publication. McCrae, R. R., & Costa, P. T, Jr. (2008). The five-factor theory of personality. In O. P. John, R. W. Robins, & L. A. Pervin (Eds.), Handbook of personality: Theory and research (3rd ed., pp. 159–181). New York: Guilford.
We strongly encourage the submission of raw data (with a key to the meaning of variable names, if needed) and stimulus materials at the time of the initial submission and will often request these if they are not already submitted. Publications should, insofar as possible, include all key information necessary to understand (and replicate) the study and data analysis. Feel free to use footnotes, appendices, or supplements. We include the data of accepted articles with the articles (unless this is for some reason difficult). We also include stimuli, questionnaires, and code, when these are necessary to understand exactly what was done (again, unless this is difficult for some reason, such as questionnares with copyright restrictions).
Our online submission system guides you stepwise through the process of entering your article details and uploading your files. The system converts your article files to a single PDF file used in the peer-review process. Editable files (e.g., Word, LaTeX) are required to typeset your article for final publication. All correspondence, including notification of the Editor's decision and requests for revision, is sent by e-mail. To submit a manuscript, proceed to
http://www.editorialmanager.com/studpsych
and follow the instruction for registration, log-in and submission. The submission and processing of the articles in Studia Psychologica is without any charges.
Authors of accepted papers must obtain and provide to the executive editor on final acceptance all necessary permissions to reproduce in print and electronic form any copyrighted work, including, for example, test materials (or portions thereof) and photographs of people.
This journal uses double-blind review, which means that both the reviewer and author identities are concealed from the reviewers, and vice versa, throughout the review process.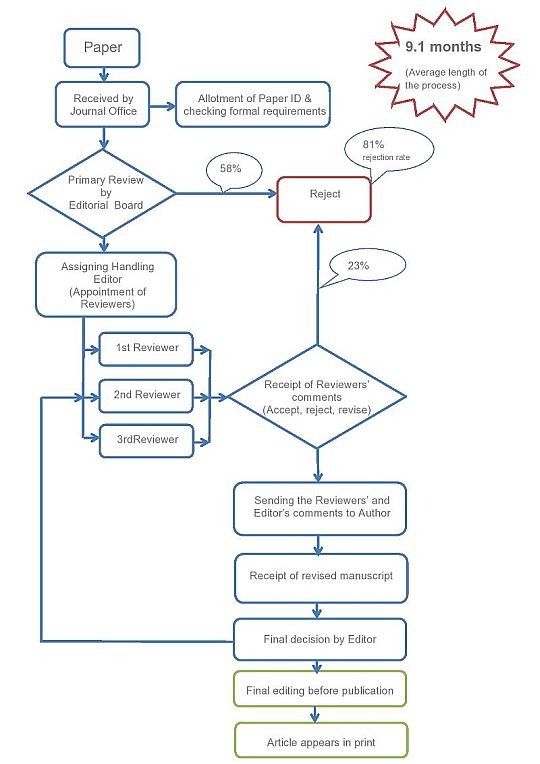 Authors who publish with Studia Psychologica agree to the following terms:
Articles are published under the Creative Commons Attribution 4.0 Unported License (CC-BY 4.0).
Under the CC-BY license, authors retain ownership of the copyright for their article, but authors grant others permission to use the content of publications in Studia Psychologica in whole or in part provided that the original work is properly cited. Users of Studia Psychologica contents are required to cite the original source, including the author's names, Studia Psychologica as the initial source of publication, year of publication, volume number and DOI (if available). Authors grant Studia Psychologica the right of first publication. Although authors remain the copyright owner, they grant the journal the irrevocable, nonexclusive rights to publish, reproduce, publicly distribute and display, and transmit their article or portions thereof in any manner.
Authors of articles published in Studia Psychologica are entitled to deposit their articles (even in final, published form) in institutional and/or centrally organized repositories. They are also authorized to announce their studies at their personal websites or academic social networks or make them publicly available in other way, provided that the journal Studia Psychologica is attributed as the original place of publication and that correct citation details are given.
The journal strongly encourages authors to deposit and announce the final, published version of the study instead of the accepted manuscript. This will guarantee that the definitive version is readily available to those accessing your article, and means that your article is more likely to be cited correctly.
Guidelines for reviewers
General aim for involving a reviewer in editorial process is to get thoughtful, fair, constructive, and informative critique of the submitted work and help the editors to make an informed decision on manuscript.
When reviewing submissions for our journal, please consider whether the paper fits with the scope of the journal. Does it represent an empirical investigation in the area of psychology of cognitive processes in personality and social context? (please refer to "Aim, scope, preferences" tab for detailed description)
In general, reviews typically are from 1–3 standard pages. Please, write your review in a narrative form and organize it in sections. If relevant, provide specific comments about:
overarching aims of the manuscript and its key points
the significance of the work and its relevance to journal scope
the strengths and weaknesses of the manuscript
the ways to enhance the quality of the paper, with attention paid to conceptual underpinnings, methodological sophistication, data analytic approach, interpretation of the findings, implications
usefulness of tables and figures
overall clarity, lucidity, and coherence of the written presentation
appropriateness of the title, abstract, and length of the paper
To be ethical, please
avoid negative bias, including prejudice against a nationality (based on affiliation and/or language), a research topic, or negative results
declare any conflicting or competing interests, such as the same research topic/direct competition, a close personal relationship or collaboration with the authors, or recent co-authorship with the authors
avoid requesting citations of your own work for personal gain
avoid disparaging personal remarks
do not share the paper, do not quote, cite, or refer to it, do not use information from the manuscript to advance your own work or instruction unless you obtain specific permission for such use from the author.
At the end of the review, please state clearly whether the manuscript is fixable. If yes, please make sure, that you provided clear guidance and recommendations how the appropriate changes should be applied in the manuscript and. Please, advice your suggestion on manuscript to editor in review form on the scale (Accept, Minor Revisions, Major Revisions, Reject).
Editors are very grateful to the reviewers for their effort and time spent on evaluating manuscripts for Studia Psychologica. Without the knowledge of many researchers being specialist in the area of journal scope, journal could not fulfil its mission.
Editorial board
Chief Editor:
Vladimíra ČAVOJOVÁ, Slovak Academy of Sciences, Bratislava
Vice-Chief Editor:
Peter HALAMA, Slovak Academy of Sciences, Bratislava
Co-Editors:
Ivan BREZINA, Slovak Academy of Sciences, Bratislava
Eva BALLOVÁ MIKUŠKOVÁ, Slovak Academy of Sciences, Bratislava
Lenka KOSTOVIČOVÁ, Slovak Academy of Sciences, Bratislava
Executive Editor:
Ida PROKOPČÁKOVÁ, Slovak Academy of Sciences, Bratislava
International Editorial Board:
Adam BIELA, Catholic University, Lublin, Poland
Juan F. DÍAZ-MORALES, Complutense University of Madrid, Madrid, Spain
Tamás MARTOS, Semmelweis University, Budapest, Hungary
Miroslav SIROTA, University of Essex, Colchester, United Kingdom
Predrag TEOVANOVIĆ, University of Belgrade, Belgrade, Republic of Serbia
Tomáš URBÁNEK, Institute of Psychology, Academy of Sciences of the Czech Republic, Czech Republic
Frederic VALLEE-TOURANGEAU, Kingston University, London, United Kingdom
Michael VARNUM, Arizona State University, Phoenix, Arizona, USA
Editorial Assistant:
Nelly KOREC, Alamogordo
Founder - Honorary Editor:
Damián KOVÁČ, Slovak Academy of Sciences, Bratislava
Subscriptions
Subscriptions & Pricing
In commercial and financial matters (subscriptions, claims payments, etc.) please contact:
Ida Prokopčáková
Institute of Experimental Psychology
Centre of Social and Psychological Sciences
Slovak Academy of Sciences
Dúbravská cesta 9
841 04 Bratislava, Slovak Republic
---
Tel: (+421)(2)5477 5625 , FAX: (+421)(2)54775584
E-mail: studia.psychologica@savba.sk
---
News
November 2018 – Studia Psychologica has been accepted to DOAJ database

October 2016 – Call for papers: Special issue Decision-making of professionals
July 2016 – Studia Psychologica starts using DOI (Digital Object Identifier) since Issue 3/2016
October 2015 – Studia Psychologica goes open-access. You can download all articles since 2004!
From submission to Final Decision
Our editorial process is in average rather quick
Rejection Rate
We aim for the best quality papers
---
Special issue on creative cognition: Call for papers
The Editors of Studia Psychologica are currently seeking contributions for the following monothematic issue of Studia Psychologica:
Creative cognition
Creativity comes in different forms and is manifested in different situations. Creativity is important in problem solving research, but also for educators, psychometricians and organizational psychology. Issues of definitions, operationalisations and measurements must be addressed.
1
The special issue would seek papers on, but would not be limited to,
Incubation and insight
Psychometric determinants of creativity
Creativity in the classroom
Creativity in the wild (beyond the psychologist's laboratory)
Collaborative creativity
Organizational creativity
The Editors are advising authors to submit only one paper per author.
Articles of regular length should be 20 double-spaced pages (around 6000 words) including abstract, tables and references.
Please refer to http://www.studiapsychologica.com/ for additional instructions.
Submissions to this journal are through the on-line submission system here: http://www.editorialmanager.com/studpsych
Please visit the author guidelines to read the full submission details for the Studia Psychologica journal at: http://www.studiapsychologica.com/index.php/guide-for-authors/
Please ensure you select this special issue from the relevant drop down menu on page 1 of the submission process.
Call for papers: December 1, 2018.
Deadline for submission: September 1, 2019.
Publication: Spring 2020.
Frederic Vallee-Tourangeau
Department of Psychology
Kingston University, Kingston upon Thames,United Kingdom
F.Vallee-Tourangeau@kingston.ac.uk
---
Latest issue | 2018 - No. 4
1
On the Unexpected Consequences of Perspective Taking: Influence of Spatial Perspective Rotation on Infra-humanization
2
Do Emotions Matter? The Relationship Between Math Anxiety, Trait Anxiety, and Problem Solving Ability
3
Differences in the Effects of Summarizing Skills Training by 4th Grade Students
4
Effect of a Short-Term Online Version of a Mindfulness-Based Intervention on Self-criticism and Self-compassion in a Nonclinical Sample
5
The Influence of Personality Traits on Life Satisfaction Through Work Engagement and Job Satisfaction among Academic Faculty Members
Most Downloaded
1
SOCIAL EMOTIONAL LEARNING AND CRITICAL THINKING DISPOSITION
2
Coping with Difficulties in Parenting Situations – Parental Control, Obedience Enforcement and Directiveness
3
Bullying and Perceived School Climate: Victims' and Bullies' Perspective
4
DO MEN CONFORM MORE THAN WOMEN IN THE RECOGNITION AND LABELING OF EMOTIONS?
5
Thinking Styles, Perceived Stress and Life Satisfaction
6
GOOD THINGS DO NOT HAPPEN TO ME… BUT NEITHER DO THE BAD THINGS: COMPARATIVE OPTIMISM AND PESSIMISM IN A SLOVAK SAMPLE
Published by
Institute of Experimental Psychology
Centre of Social and Psychological Sciences
Slovak Academy of Sciences, Bratislava, Slovak Republic
studia.psychologica@savba.sk

ISSN 2585-8815 (online)
ISSN 0039-3320 (print)