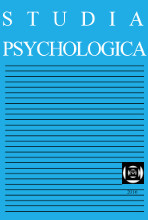 ---
Studia Psychologica has moved to a new website!
Dear readers,
Since 2020, the journal Studia Psychologica has been published online at:
https://journals.savba.sk/index.php/studiapsychologica/
.
The archive of older articles published since 1996 remains available here. Full texts are available for all articles since 2005. You can access them at the following link:
https://www.studiapsychologica.com/index.php/view-articles
/
---
News
January 2020 – Studia Psychologica starts to use new submission system

December 2019 – Call for Papers: Special issue on Individual and social predictors of irrational behavior and beliefs

November 2018 – Studia Psychologica has been accepted to DOAJ database

October 2016 – Call for papers: Special issue Decision-making of professionals
July 2016 – Studia Psychologica starts using DOI (Digital Object Identifier) since Issue 3/2016
October 2015 – Studia Psychologica goes open-access. You can download all articles since 2004!
From submission to Final Decision
Our editorial process is in average rather quick
Rejection Rate
We aim for the best quality papers
---
Special issue on Strategies to counteract autocratic political propaganda, social-media-boosted fake news, and conspiracy theories; empirical groundwork: Call for papers
The focus of the Special Issue, Aims, and Scope
In recent years the spreading of deliberately created misinformation on the internet and social media has created a significant challenge to the operation of democratic societies. In fact, currently, this process is being viewed as an opportunity to undermine the democratic system by certain autocracies, and outright dictatorial governments. Currently, there exist no forceful methods of counteraction; in a way, this is a problem that the normal operation of democratic societies has created for itself. Thus improvement is in order. Although a special issue of a scientific journal cannot set the grandiose goal of finding the antidote, it can still reach out for empirical work that is relevant to this problem, in a broad sense, and which could, in turn, facilitate theoretical thinking about the challenge. For these reasons, we invite publications from disciplines including (but not limited to) social psychology, cognitive psychology, cognitive science, and psychology of personality which are empirical in nature and may contribute to the generation of evidence in relation to the above objective. As we know from the philosophy of science, even the best set of data underdetermines our theories and understanding, however, the lack of good data will do so even more badly. We invite authors to help make these first steps.
1
The topics of interest for contributed papers include, but are not limited to:
• Strategies to counteract autocratic political propaganda and fake news;
• Psychological interventions aimed at reducing susceptibility to political propaganda, fake news, conspiracy theories, and misinformation;
• efficient communication, and social influence
• attitudes and outgroup hostility;
• factors behind trust/distrust in institutions;
• prejudice;
• racism and exclusion;
• belief in conspiracy theories;
• relations between level of education, personality, political orientation, and belief in conspiracy theories;
• Machiavellian thinking;
• attitudes and personality traits of political leaders and their relation to power ambitions;
• individual differences in theory of mind ability, and their relation to machiavellism.

We welcome all types of research, from correlational studies to field and laboratory experiments.
Only one paper per author is allowed.
Articles are expected in length of around 20 double-spaced pages (around 6000 words) including abstract, tables and references.
Please visit the author guidelines to read the full submission details for the Studia Psychologica journal at: https://www.studiapsychologica.com/index.php/guide-for-authors/
Please ensure you select this special issue from the relevant drop down menu on page 1 of the submission process.
Call for papers: May 25, 2023.
Submission deadline: September 30, 2023.
First Round Decisions: December, 2023.
Editorial decision on revised papers and Final acceptance notification: June, 2023.
Publication: : Issue 3 or 4 (fall 2024)
Zoltan Jakab
Eötvös Loránd University, Budapest, Hungary
zoltan.jakab@barczi.elte.hu
---
Latest issue | 2019 - No. 4
1
Lack of Publication Bias in Intelligence and Working Memory Research: Reanalysis of Ackerman, Beier, & Boyle, 2005
2
Subjective Well-Being and Income Below the 'At-Risk-of-Poverty Threshold': Analysis of Slovak EU-SILC Data
3
'I Will Help but not Everybody' – Donating to Charity in a Deficit vs. Growth Condition: The Importance of Well-Being
4
Mine is Bigger than Yours! Narcissism Predicts Biases in Perceived Head Size
5
Subjective Health Complaints in Fifteen-Year-Old Czech Adolescents: The Role of Self-Esteem, Interparental Conflict, and Gender
Most Downloaded
1
SOCIAL EMOTIONAL LEARNING AND CRITICAL THINKING DISPOSITION
2
Bullying and Perceived School Climate: Victims' and Bullies' Perspective
3
Thinking Styles, Perceived Stress and Life Satisfaction
4
DO MEN CONFORM MORE THAN WOMEN IN THE RECOGNITION AND LABELING OF EMOTIONS?
5
Coping with Difficulties in Parenting Situations – Parental Control, Obedience Enforcement and Directiveness
6
GOOD THINGS DO NOT HAPPEN TO ME… BUT NEITHER DO THE BAD THINGS: COMPARATIVE OPTIMISM AND PESSIMISM IN A SLOVAK SAMPLE
Published by
Institute of Experimental Psychology
Centre of Social and Psychological Sciences
Slovak Academy of Sciences, Bratislava, Slovak Republic
studia.psychologica@savba.sk

ISSN 2585-8815 (online)
ISSN 0039-3320 (print)